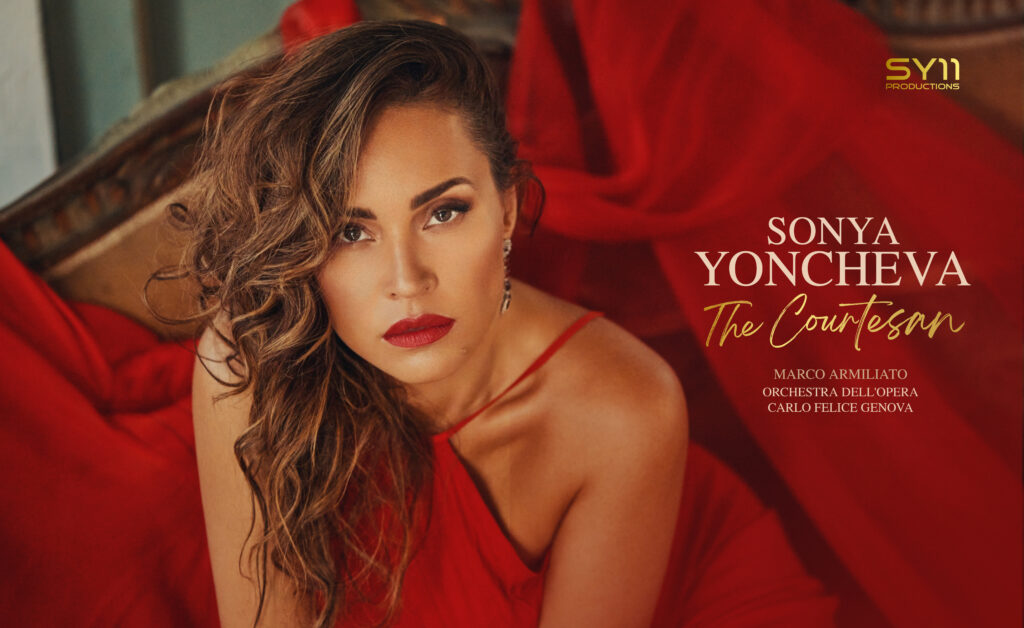 It was a fantastic surprise to hear from the talented Sonya Yoncheva this week on Instagram about the release of her new solo album. It will be called The Courtesan and should be released next year on February 9th 2023. We were delighted with Rebirth, Cappella Mediterranea conducted by Leonardo García Alarcó (Sony) in 2021, and only two years later, the talented Bulgarian soprano will deliver a new album. Fans will be pleased as the new album gathers passionate roles that only Sonya Yoncheva has the secret of such performances. This new album can be pre-ordered here: https://sy11events.com/store
THE IDEA OF A COURTESAN AS A STRONG THREAD ACROSS THE ALBUM.
What history tells us? The court served as the seat of political power and the monarch's palace in the feudal societies of Europe when social and political life frequently blended seamlessly. Before the Renaissance, courtesans were used to informing distinguished guests when serving staff could not be relied upon. Courtiers were crucial members of an affluent society in Renaissance Europe. Men and women would frequently seek satisfaction and company from others residing in court. It was usual for royal couples to conduct independent lifestyles during this time—commonly marrying simply to protect bloodlines and secure political ties. The word "to court" originally meant "to live or reside at court," and through time, it evolved to mean "to behave like a courtier," and finally "to court," which is to show someone amorous attention. The term "favourite" describes a ruler's closest companion or courtesan.
"THE WORLD OF COURTESANS HAS ALWAYS INTRIGUED ME. I DISCOVERED THEIR UNIVERSE IN MY STAGE INCARNATIONS OF SOME OF THEM"
Sonya Yoncheva
Sonya Yoncheva sees in the courtesans, avant-gardists people and those who tried to brave standards to fight for their freedom and their position. Women were true warriors of human rights and women's conditions in society. Some of them were very powerful and could decide the country's destiny with thoughtful advice.
Sonya Yoncheva was inspired by these people's lives and paths and decided to dedicate an album to this theme. By aligning some of her most iconic roles, Ms Yoncheva offers a powerful story-telling, a one-in-a-kind.
THE COURTESAN, A NEW SOLO ALBUM
In "The Courtesan", Sonya Yoncheva unites eternal female figures, some of them historical, who highlight particularly the contradictions and tensions that run through a woman's personality between the different roles and images she is expected to fulfil. The album comprises arias from the soprano's most notable roles, such as Verdi's "La Traviata", Puccini's "La bohème" and "Manon Lescaut", Giordano's "Siberia" and Mascagni's "Iris". Other titles such as Leoncavallo's "La bohème" Saint-Saens's "Samson et Dalila", Massenet's "Manon" and "Thaïs" are not part of the singer's repertoire or are scheduled as future debut such as Puccini's "Madama Butterfly". The bonus track "In Trutina" from Orff's "Carmina Burana" mirrors the philosophy of the project, the balance between body and mind, pleasure, restraint, doubt, and the competition between sentient and rational nature of the human being.
Recorded last year in Genoa, Italy, with the Orchestra dell'Opera Carlo Felice Genova led by Marco Armiliato and tenor Charles Castronovo in the duets from "La Traviata" and "Thaïs", all the operatic female protagonists featured on the album are characters associated with the image of the courtesan. Sonya Yoncheva has organised the recording of her fifth solo album and everything around it by her own company SY11 Events Ltd. Established in 2020 to produce her concerts, the company has now also created the label SY11 Productions, where the album is being released. Remaining an exclusive Sony Classical recording artist, Sonya Yoncheva preferred for this project, which she takes closely to heart, to produce the album fully according to her vision. The album will be available to purchase digitally on all major platforms and physically in select record stores worldwide and on the SY11 Events website https://sy11events.com/store/, where it is available to pre-order.
This new album is a monument to influential female roles in Opera. By seeing the playlist, it is for sure a breathtaking journey that will not go unnoticed. This musical invitation will take us to multiple themes and ambience with a strong common denominator: The courtesan.
Thaïs, From Venus to purity
Thaïs takes place in Egypt under the rule of the Roman Empire, where a Cenobite monk, Athanaël, attempts to convert Thaïs, an Alexandrian courtesan and devotee of Venus, to Christianity, but discovers too late that his obsession with her is rooted in lust; while the courtesan's true purity of heart is revealed, so is the religious man's baser nature. A pure soprano role requiring a lot of passion and control.
La Boheme with Musette and Mimì
After Egypt, our journey will take us to the Quartier Latin in Paris at the end of the 19th century. Between a seamstress and a singer, a seductive role play among the artists of that time. This is, for sure, an exciting focus. Sonya Yoncheva's Mimi is one important role for the Bulgarian soprano. She has embodied this role around the world and it is for sure one of her signature roles.
Manon Lescaut in France mon amour…
Based on the novel The Story of the Chevalier des Grieux and Manon Lescaut. Seventeen-year-old Des Grieux, studying philosophy at Amiens, comes from a noble and landed family but forfeits his hereditary wealth and incurs his father's disappointment by running away with Manon on her way to a convent. In Paris, the young lovers enjoy a blissful cohabitation while Des Grieux struggles to satisfy Manon's taste for luxury. He acquires money by borrowing from his unwaveringly loyal friend Tiberge and by cheating gamblers. On several occasions, Des Grieux's wealth evaporates (by theft, in a house fire, etc.), prompting Manon to leave him for a richer man because she cannot stand the thought of living in poverty. The role was hand-made for a soprano singer. Cesira Ferrani was the leading soprano role in the first premiere cast back in 1893. Sonya Yoncheva is the perfect heiress for this role.
Madame Butterfly is one of the Everest in Opera.
A highly talented singer needs a highly demanding role. Having Sonya Yoncheva in Madame Butterfly means placing two iconic monuments of Opera together. In 1904, a U.S. naval officer named Pinkerton rented a house on a hill in Nagasaki, Japan, for himself and his soon-to-be wife, "Butterfly". Her real name is Cio-Cio-San (from the Japanese word for "butterfly"). Madam Butterfly (in Italian Madama Butterfly) is one of opera's most enduring tales of unrequited love. Puccini's poignant score follows the tragic tale of Cio Cio San, a young Japanese girl who falls in love with American naval officer Pinkerton, with devastating consequences. Having Sonya Yoncheva performing such a story can only give you goosebumps.
Siberia, an extraordinary Stephana
Siberia is an opera in three acts by Umberto Giordano from a libretto by Luigi Illica. It premiered on 19 December 1903 at La Scala in Milan. There is no direct source for the plot of Siberia and it is quite possible that this is an original work by Illica. Stephana is the mistress of Prince Alexis, living in an elegant palace, who was once seduced by Gleby, a scoundrel, who sold her to the Prince and has been living off a pension granted to him by the Prince. Stephana loves Vassili, a lieutenant who corresponds with her but assumes she is a simple working girl because they always meet in disguise outside her house. Sonya Yoncheve, as Stephana, is a true force of nature. Her interpretation of the role is unique, from high notes to long deep tirades.
Iris, an extraordinary history in Japan
Iris is an opera in three acts by Pietro Mascagni to an original Italian libretto by Luigi Illica. It premiered on 22 November 1898 at the Teatro Costanzi in Rome. The story is set in Japan during legendary times. Iris, the young and innocent daughter of a blind older man, Il Cieco, lives happily, enjoying the sun and the simple things of nature. Osaka, a young lord in search of adventures, plans to kidnap her with the help of Kyoto, who keeps a geisha house. Sonya Yoncheva has interpreted a very solar and warm-hearted Iris.
Samson and Delilah, a timeless love story
The opera is based on the Biblical tale of Samson and Delilah, found in Chapter 16 of the Book of Judges in the Old Testament. It is the only opera by Saint-Saëns that is regularly performed. The second act love scene in Delilah's tent is one of the set pieces that define French opera. The perfect for a soprano like Sonya Yoncheva.
La Traviata, a defining role for Sonya Yoncheva
The role of Violetta was made for Sonya Yoncheva. All opera experts worldwide agree to say she is the best Traviata in the world. She interpreted this role several times in her career at the Met, Bayerische Staatsoper or the Opera de Paris. The opera was originally titled Violetta, after the main character. It was first performed on 6 March 1853 at La Fenice opera house in Venice.
Lastly, there is a special bonus track: Carmina Burana – "In Trutina". It concludes this amazing album that is highly recommended if you want to dive into the amazing creative universe of Sonya Yoncheva. Feel free to visit the artist's official website:
José Amorim
Information sourced by the author for luxuryactivist.com. All content is copyrighted with no reproduction rights available. Images are for illustration purposes only.
Source: https://luxuryactivist.com/luxury/sonya-yoncheva-is-releasing-her-5th-solo-album-great-news/